Rogers Introduces Bill to Force Council to Approve Barber Condos
Montgomery(JM) - State Rep. John Rogers introduced a bill Tuesday that would force the City of Birmingham to approve a zoning change for George Barber's proposed mid-rise gated residential community and drive-through 24 hour discount liquor superstore. If passed by state lawmakers and signed by Gov. Bob Riley, the bill would become effective immediately and force the Council to overturn their 7-2 vote against rezoning the 15.5 acre property.

Efforts to reach Rogers, D-Birmingham, a longtime mid-rise gated residential community and drive-through 24 hour discount liquor superstore proponent, were unsuccessful Tuesday, but he had vowed last July to introduce a bill requiring the Council to respect his authority.

Plans for the 68-condominium mid-rise tower, to be called "The Crest", stalled when detractors were able to construct an unlikely alliance of neighborhoods from all sides of the city which fear change. Knowing that a representative democracy relies foremost on strong leadership from Montgomery, Rogers spent over 40 minutes with the Microsoft® Word "LegislationWizard" crafting the bill.

Barber Companies Vice President Don Erwin said he is pleased Rogers introduced his bill. "Our position is this project is still viable. It's unfortunate the residents of Birmingham made a political decision instead of a business decision not to approve rezoning." Carole Reynolds said that the neighborhoods should have a say in what rich developers should be able to do on their own property. "If we'd just given the land to UAB, it would be a 12-story dorm already, with a lot more than 68 residences, and the same 24-hour access to liquor."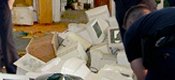 Avondale() - In an early morning raid that left construction workers stunned, the Jefferson County Sheriff's Office seized all computers from the partially renovated Avondale Branch of the Birmingham Public Library. Work on the multi-million do...
(MORE)
Birmingham (RS) - HealthSouth founder and former Chief Executive Richard Scrushy (pronounced scroo-she) today blasted a report carried by the weasely Associated Press alleging that he ...
(MORE)
Kincaid Vows: Birmingham To Remain Chocolate, Forest Park Vanilla, Downtown Vacant
---
Carlos N' Charlies To Open Summit Location
---
23 Years Later, Grown Men Still Crying
---
Alabama to Test Teachers for Lead
---
Smitherman Hasn't Seen Last Of Barber
---
Bear Beatified


1/26 Kathryn Tucker Windham booksigning. Beeson Hall, Samford University. 8PM.
1/27-28 Alejandro Escovedo. You should go. It's hip, cool. Workplay.
1/29 Wurlitzer Concert with Neil Pollock. Alabama Theatre. 2PM.