NEW STREETCARS TO BE RACIALLY CHARGED
Some Lines May Need Governors
Downtown() - Over the past two decades, several dozen initiatives have attempted to revitalize downtown Birmingham. Foremost among the problems that civic leaders have tried to address is the city's dangerously overcrowded public transportation system. Sadly, most of the efforts to alleviate this problem have focused on destroying any historic buildings left downtown in order to 'flush out' the remaining residents. Not surprisingly, this strategy has met with limited success. Last month, however, the city gave a thumbs-up to a twenty million dollar county initiative to bring streetcars back downtown by 2010.

Mayor Bernard Kincaid is among the staunchest advocates of the streetcar project, which he feels will bring the city one step closer to its dream of acquiring a second rate pro-football team. At a press conference Tuesday, Kincaid credited a UAB engineer, Skeeter Proudfoot, with developing a public transportation system that operates from a continuously renewable energy source: racial charge. Proudfoot, chief researcher at the UAB Center for Racially Acquired Power or CRAP, says he hit upon the idea after realizing that Birmingham was teaming with surplus racial energy. "I kept hearing the media say that local events were 'racially charged' or 'racially motivated.' I knew there had to be a way to harness all that energy."

Proudfoot's design involves a two-step process to convert Racial Animosity (A) into Racial Energy (E) using the formula E = AR (where R is resistance). First, the streetcar is polarized by separating its occupants on the basis of race. "By placing Blacks at the front and Whites at the back, we generate very strong positive and negative charges, respectively." The second step insures the conversion of animosity into energy by having the streetcar run from an all white neighborhood into an all black neighborhood. So far, three lines are planned, Forest Park/West End, Fountain Heights/Glen Iris and the eagerly anticipated Trussville/Brighton Line. Based on Proudfoot's formula cars may run at different speeds at different times of day and on different lines. Kincaid expressed great optimism for the project, "We hope that these streetcars will have the same positive effect they have had in places like Detroit and New Orleans."


Mountain Brook() - Students at Mountain Brook High School are gearing up once again for their annual celebration of Black History Month. In a community that has received so much and given so little in return, recognition of African American cul...
(MORE)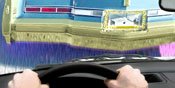 Fultondale() - Local man James Whitcomb has been specifically targeted by drivers intent on slowing down his morning commute, simply because he is white. Whitcomb claims that this racial profiling started when he began taking a new route to wor...
(MORE)
Alabaster() The mayor and city council of Alabaster have announced their first official celebration of black history month. The resolution adopted Tuesday includes statutes designed to make Alabaster a less friendly place for whites during the ...
(MORE)
---
PRATTVILLE POLICE CAPTAIN ORDERS TASERS SET ON 'STUN'
---
AGENTS CONFISCATE SCRUSHY'S PRIVATE JURY
---
SCHAEFFER REPORTS BRISK SALES OF PRESCRIPTION SUNGLASSES
---
SCRUSHY FINALLY PROMOTING BLACKS
---
RICK KARLE SUFFERS 'WARDROBE MALFUNCTION' DURING SUPERBOWL
---
SCRUSHY CASTS FIRST STONE AT WITNESSES
---
CLINTON, SCRUSHY SHARE PERSECUTION GENE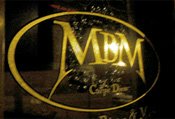 FEB. 2 - Bill Murray at the same bar as yesterday
FEB. 5 - Kerry James Marshall Day
FEB. 6 - Dynasty w/ guest Paul McArtney
FEB. 8 - Better Eat Well Today
FEB. 11 - Chick flick at WorkPlay
FEB. 12 - Last chance to find someone
FEB. 13 - Andre Watts with the ASO
FEB. 14 - Secretary's day
FEB. 22 - Tons of washing day
FEB. 26 - Blazers vs. Wave, the ugly rematch