Educational Sweepstakes Video Attracts Cirque, Other Forbidden Pleasures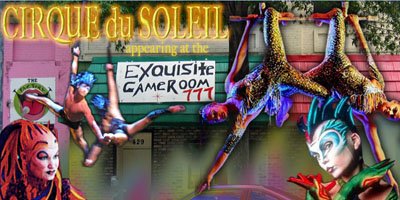 World renowned entertainment troupe Cirque du Soleil will be making its first stop ever in the Magic City thanks to the tireless efforts of Jefferson County Circuit Judge Scott Vowell. In a decision last week, Vowell declared that educational sweepstakes video machines were in fact a sham, and not real gambling machines. Vowell spent countless hours studying the mechanism by which the machines take people's money. "There is no chance of winning," said Vowell. "Thus I don't see anything inherently wrong with these internet cafes." Educational internet cafe and video machine mogul Milton McGregor was quick to laud Vowell for his heroic decision. "The judge says this isn't illegal gambling, and it isn't. Trust me though, it is just as exciting and gives you something to do on payday."

The decision clears the way for Cirque du Soleil to move its show into a giant tent adjacent to the Exquisite 777 Gameroom. Entertainers like Cirque, Blue Man Group, Yanni and Ray Stevens have had a difficult time finding performance venues since hurricane Katrina devastated the entire gulf coast gambling region. "Our business thrives in a family environment, a place with something for everyone," said Cirque founder Guy Laliberte. "We've tried Disney World, and Atlanta, but they don't have the gambling that attracts the diverse crowds."

Luckily for the 777 Gameroom, a nearby 1909 Richardsonian style office building was just demolished in anticipation of a domed convention complex. This allowed Cirque to connect their tent directly to the 'casino'. "We were truly lucky to find a city with such an abundance of vacant lots in close proximity to fancy new casinos," said Laliberte. "It is clear that this town is serious about economic development and education."


Southside() - Highland Avenue resident Sam Harris announced his displeasure Tuesday night over the condom buying process at one area supermarket. According to Harris, it was impossible to purchase the condoms in a discreet manner. "I just need...
(MORE)
Hoover() The newly formed Hoover Historical Society has released the first book in what it hopes will become an annual series of publications. This first volume represents a complete historical record of all retail activity at The Riverchase Ga...
(MORE)
Local Man Vows not to Have Valentine, Doesn't
---
UAB Master Plan Allows Room for City to Shrink
About Bear Bryant...
The south didn't actually lose the Civil war. They traded away their certain victory for the right to be the future home of Bear Bryant.
Hounds used to line up to donate their teeth to Bear Bryant's hat.
Bear Bryant had no tear ducts, nor did he need them.
(MORE)


2/15 Post consumerist sugar binge, morning-after hangover.
2/17 Some sort of Master Plan probably being unveiled today.