Open Mike Night At Storage Facility Generates Mixed Reviews, Controversy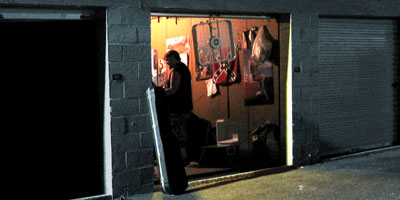 West Valley() - It's Thursday night and Southside couple Toby Sweet and Melissa Gruden are on their way to their favorite live music club. No, it's not the Nick or Cave 9 or any of the other trendy, upscale venues that occupy Birmingham's talent laden local music scene. Tonight they're treating themselves to the hottest new club in Birmingham - Uncle Bob's Self-Storage on West Valley Avenue.

Bob's is the brainchild of nineteen year old UAB student Taylor Boyd who saw a need in the local music community for those who had been excluded by the establishment. "Yeah, my mom told our band we couldn't practice in her basement anymore so she offered to rent this place if I would get out of the house." With the success of Bob's, similar impromptu venues have begun springing up all over the city in gas station bathrooms, abandoned Denny's and other places that were never intended for human habitation. On any given night, Bob's tiny 10' by 14' concrete and corrugated metal room is crammed with people eager to hear their favorite bands. After a few months, Taylor began to worry that the regular acts such as Bad Umbrella and Doucheberg were becoming too entrenched. As a result, he decided to make Thursday open mike night.

While the move was extremely popular with Bob's younger fans, many longtime patrons were less than impressed. "The guitar sounded like a cat that's been caught in a vacuum cleaner," said Sweet. "They really did not measure up to the level of musicianship that we have come to expect from Uncle Bobís Self-Storage." Others were less generous in their assessment. "I didn't skip my Women's Studies seminar to listen to some half assed cover of Seven Nation Army in a dark, cramped room that smells like Mexican food and pee." complained Gruden. The reviews weren't all bad, however, "I had to beg my dad for a week to get him to drive me here," raved one young fan. "I bet this is exactly what punk was like in the nineties."