Pot of Gold Found at Old Courtney's Site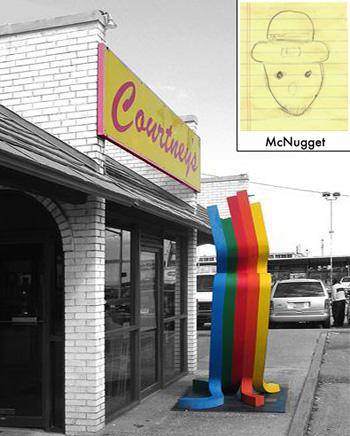 Birmingham () - Workers responding to a call about a leaking water pipe made an unexpected discovery beneath the sidewalk of a vacant area restaurant on Monday. While digging to find the source of the leak at the former Courtney's restaurant, Birmingham Water Works employees unearthed a pot filled with glittering gold.

Courtney's restaurant opened in 1995 following the purchase of the former Country Kitchen restaurant by Birmingham native Courtney Towne. Towne and her husband Richard had lived on Martha's Vineyard for some time and had become fans of the whimsical art scene there. Upon returning to Birmingham they befriended local artist Branko Medenica and had him place one of his metal sculptures in front of the restaurant. It was soon common for people to describe Courtney's as "that restaurant with the Branko Medenica sculpture out front."

The restaurant quickly became known for its delicious down-home cooking, friendly service, and inspirational Irish sayings on the daily menu board. Towne hired many of the same staff from the former restaurant. "Lorie, or Laura, I can't remember which...she was my waitress going on ten years," said former patron Mark Hedges. "I loved their hot buttery cornbread. Sometimes I'd start gobbling it up it as soon as the basket came and not even need to order a full meal. And on Saturday mornings I'd plop down and enjoy a cup of coffee while I read one of the free newspapers they provided. Though I have to admit, the refills could be a little slow in coming."

The restaurant began to struggle with out-of-town and national chain competition in the UAB area and Towne decided to sell to Joseph Williams, former owner of Downtown's Cameo Cafe at the end of 2006. Williams continued with the same staff, adding additional specials and substituting Biblical quotations for the Irish sayings on the menu board. However, after three years the restaurant was still barely breaking even. He considered removing the sculpture to create a more comfortable waiting area, but remembered Courtney's advice that "There's a lot of money in the Medenica."

The buried treasure is currently being held in trust by the Birmingham Water Works Board pending the results of a cursory investigation. Neither Williams nor Towne could be reached for comment, but the elusive property owner, Séamus McNugget of Mobile, issued a statement saying that the gold surely belongs to him.