Birmingham Set To Host 1928 Olympics
Lausanne, Switzerland (JM) - The International Olympic Committee has selected Birmingham over Amsterdam, Holland as the site for the Games of the IX Olympiad, to be held during the summer of 1928. As many as 46 nations and over 2,800 athletes are expected to compete in 15 sports, held at several venues across the region.

The Olympics are an international sporting competition founded by Frenchman Pierre de Coubertin in 1896 to promote peace and understanding between nations. The idea was based on an ancient sporting competition held in Olympia, a sanctuary in Greece's Peloponnesos peninsula.

International Olympic Committee president Henri de Baillet-Latour toured Birmingham, where he was impressed by the newly-constructed Legion Field and Municipal Auditorium, the enormous Cascade Plunge aquatic complex, and the recently expanded Fairgrounds Raceway. The city plans to expand Legion Field to hold as many as 40,000 who may attend the games' pageant-like opening ceremony. The auditorium will be used for indoor events while Cascade Plunge hosts swimming and diving. The raceway will serve as a venue for automobile races, a new demonstration sport for 1928.

Baillet-Latour was particularly impressed by the city's extensive streetcar and passenger rail facilities. He also toured the newly-opened Alabama Theatre and surveyed the city's numerous luxury hotels, including the Tutwiler, the Thomas Jefferson and the Redmont. He was shown plans for the city's proposed "million dollar airport" and was treated by Glenn Messer to an aerial tour of Lake Purdy, impounded just three years ago, which will host sailing events.

Crawford Johnson, president of Birmingham Coca-Cola Bottling Company and chair of the Birmingham Olympic Committee, was pleased, but not surprised, by the committee's selection of Birmingham. "We were certain that Birmingham would compare favorably with any other potential host in the world. Our southern metropolis is bustling with energy and unity and has really come together for this commitment to show ourselves off to the world." Mayor James M. Jones agreed, saying "Birmingham is ready for this event, which, barring a crippling economic depression, will establish our city as a player on the world's stage.


Birmingham () - Middle distance runner Norris Stock is preparing for his morning run just as he does the other 364 days a year, except this time he will be adding something new to his training regimen from Welch's Bama Products division...Energ...
(MORE)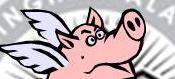 Birmingham () - The International Olympic Committee has announced the preliminary slate of demonstration sports for the 2020 Olympic Games. The IOC chooses demonstration sports based upon a number of factors including number of players worldwid...
(MORE)
Alabama Supreme Court Declares Central Time To Be God's Time
---
Vestavia Hills High School Replaces Prom With Purity Ball

---
Build A Pentagon
---
Worship A Pentagram