Energy Mayonnaise Fueling Olympic Hopefuls
Bama May Expand Line With Additional Flavors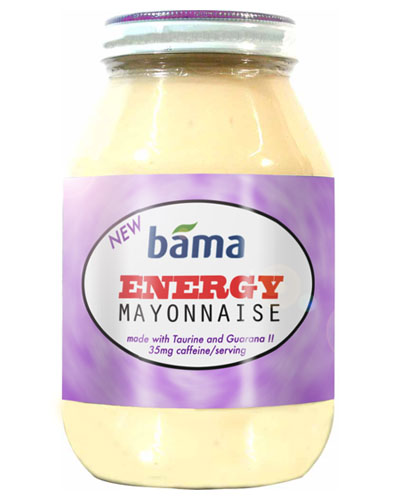 Birmingham () - Middle distance runner Norris Stock is preparing for his morning run just as he does the other 364 days a year, except this time he will be adding something new to his training regimen from Welch's Bama Products division...Energy Mayonnaise. Made with olive oil, this specially formulated salad dressing uses zero trans fat and contains the energy boosters Taurine and Guarana. The 35mg of natural caffeine per serving makes Energy Mayonnaise the most complete and balanced energy food available today.

Bama company researchers anticipated that the high protein content of Energy Mayonnaise would provide a more sustained boost than most energy foods, but even they were surprised at the spread's effectiveness. "We discovered specifically that chicken protein from the eggs helps regulate the release of caffeine to the bloodstream, providing longer term stimulation," said Bama scientist Ken Noland. "At the same time, olive oil's high concentration of monounsaturated fatty acids and natural antioxidative properties help maintain smooth joint operation and temper the lactic acid build-up that causes muscle fatigue, pain, and cramping."

But it's not just Olympic caliber athletes who are enjoying the benefits of Bama's new mayonnaise. "We have found people using the mayonnaise in all of their traditional recipes from tuna and chicken salads to Waldorf and carrot-raisin salads," said marketing manager Beth Alvarez. "Surprisingly, several preachers have told us lately that people are more attentive during prayers at church picnics and Wednesday night suppers." The mayonnaise is offered not only in new Quick-Squeez Energy Gel packets, but also in the traditional squeeze bottle and three different glass jar sizes. According to the label, the formula found in the Quick-Squeez packets produces a thicker, chewier mayonnaise with the same great taste. "We also plan to offer the mayonnaise in Gamma Garlic, Citrus Burst, Dynamite Dill and Herb-atious flavors," said Alvarez.

As with any energy food, Bama cautions moderation when using Energy Mayonnaise. "Go ahead and use it just like regular mayonnaise in your favorite recipes, and feel free to dip your waffle fries in it as well," said Alvarez. "But when you need that quick energy boost, consider limiting yourself to six or eight Quick Squeez packets, or tablespoons, per serving."

For Stock, the development of Energy Mayonnaise could not have come at a better time, as he was about to lose his Energy GU sponsorship. Bama has agreed to supply Stock with unlimited Quick-Squeez packets of energy mayonnaise for the duration of his quest for Birmingham Olympic Gold. "I squeezed a few down just before my 10,000 meter run today," said Stock. "I must say that I felt like I had more energy towards the end and my body really did feel much smoother."