'Future Parking' Style of Architecture Grabs Space in Birmingham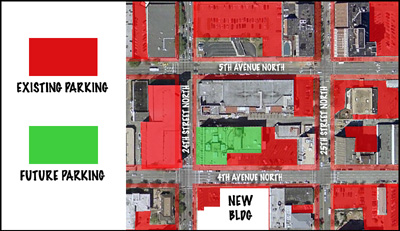 City Center() - A new approach to architecture in Birmingham is opening doors to a broad range of design ideas that lend themselves to the nascent landscape of a post-manufacturing modern urban movement. One of the most forceful tenets to come out of this new movement is the 'Future Parking' style of architecture. The design ideas emerging from this style can be seen dominating the city skyline. "These architectural motifs echo the halcyon days of heady Birmingham commerce when the need for parking seemed greatest, while focusing attention on the newer structures in the city thus highlighting our fabulous growth," said Cheryl Morgan of Auburn University.

A prime example of 'Future Parking' can be seen on the corner of 22nd Street and 4th Avenue North, across the street from the Birmingham News building currently under construction. The existing building impregnates the corner with design features such as a half block of potential pavement while its various floors elicit a response similar to the multiple levels of a parking deck.

Another example of the style can be seen rising on the city center's west-side just one block from the Phoenix Lofts. "The Cabana Hotel (formerly Thomas Jefferson) is a melange of 'Future Parking' ideas including the sub-marginal ground floor retail which connotes the need for parking while evoking a sense of isolation and abandonment that only a large parking structure can fill," said Gerald Reddy of All-Right Parking.

Sadly, a number of eaxmples of the style are already beginning to be lost to unchecked downtown revitalization. A beautiful example is the original Jefferson County courthouse which was finally realized for many years adjacent to the downtown YMCA until cold unfeeling developers destroyed the aesthetic by building the Concord Center. It is hoped that by transforming more of the buildings that only serve as a representation of their full potential as parking into actual parking, more of the historic fabric of downtown can be maintained. The perception of the city center as one enormous parking lot will also be enhanced.