Auburn QB Controversy to be Decided in Thunderdome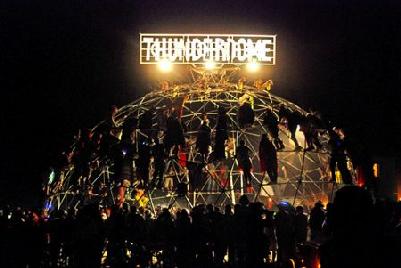 Auburn (DB)- Despite a convincing win over Louisiana Monroe this past Saturday, Auburn head coach Tommy Tuberville remained ambivalent about using a two quarterback rotation over the 2008 season and has decided to put the issue behind the team permanently. Neither Kodi Burns nor Chris Todd were able to win the QB job outright during spring practice and neither showed any particular flash during the season opener, forcing Tuberville to make a tough decision. After some debate, he and offensive coordinator Tony Franklin agreed that the quarterbacks will contend amongst themselves at the Waverly Thunderdome to see who gets the top spot.

Built in 1965 to entertain soldiers from Fort Benning, the Thunderdome was located in Waverly to sidestep Georgia state laws against bloodsports. After the popularity of gladiatorial style cage fighting diminished in the early 1980's, the Thunderdome was shuttered until 2005 when it began to host a series of bum fights culminating with the popular pay per view event: Hobo Wars 2007. The same "Two men enter, one man leave" rule will apply to the Auburn QB competition.

Both players appear excited about the chance to prove themselves in the arena. Chris Todd said, "I've been a big fan of mixed martial arts for years, and I look forward to putting this controversy behind the Auburn family." There has been some discussion on what impact the cut on Kodi Burns' leg will have on the competition, but Burns' roommate Quindarius Carr played down these concerns, "My man KB is a wizard with a piece of pipe, lil T don't have a chance once they close that gate." The losing player will be honored with a memorial Tiger Walk and will have the option to be interred in the Auburn Heisman Cemetery.