Council, Mayor-Elect Say Civic Pride Trumps Petty Differences
Unity Depicted In Mural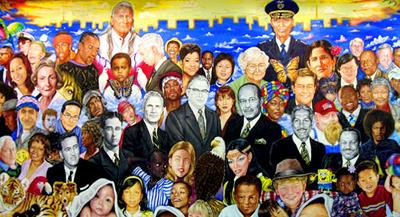 The election is over, the old burger restaurant shuttered, and the mayor's hat passed to a new leader. Just as they always do, the Birmingham city council has pledged to work together to continue the progress they've made over the past 28 years. "All of that stuff we say during the election is just for the voters," said council president Carol Smitherman. "We are really one big happy family and just want what is best for our city."

In fact the race for mayor forced the interruption of several of the council's favorite activities. "During the campaign there just hasn't been time for our monthly potluck supper," said councilor Valerie Abbot. "And I've really been missing Smitherman's delicious soul-food cooking." Councilor William Bell said he can't wait to resume the council's Tuesday night bowling tradition. "We love bowling so much we've been working for ten years to bring a bowling alley back into the city so we don't have to keep going to Pinson."

Of the mayor-elect the council had nothing but praise and good feeling. "Larry Langford brings a different style of management to our fair city," said councilor Miriam Witherspoon, "but he will find us just as non-confrontational as [outgoing mayor] Kincaid did." Langford concurs saying that it will be no different than the close relationship he had with the other Jefferson County commissioners during his tenure there. "The civic pride we feel about our home always overcame any personal desires I had for power...ultimate power, and wealth."

That civic pride runs so deep for Langford that he has always thought about living in Birmingham and even leased a downtown loft prior to announcing his run for mayor. Although a requirement for getting on the ballot, Langford insists that was not his primary reason for renting the space. "I love Birmingham and I thought...what better way to get close to the people than by renting a fancy new downtown loft."

"The electorate has made their wishes clear," said councilor Steven Hoyt. "Now it is time to get back to our normal business of moving the city ahead."



Pell City (JM) - Cris Abrego and Mark Cronin, producers VH1's 'Flava of Love' (with rapper Flava Flav) and 'Rock of Love' (with rock vocalist Bret Michaels), announced Friday that they have signed Rush Propst, the embattled star of MTV's 'Two-A...
(MORE)

Birmingham () - Trying to improve on the image of its offerings in order to compete with the Whole Foods Market on Highway 280, Richard Little of V. Richards has come up with some products that will knock the socks off the guilt laden eater. On...
(MORE)

Supporters of Larry Langford have taken the unusual step of demanding a runoff even though their candidate claimed a 50.3% share of the election, obviating the need for such a measure. "I understand that they really want to continue supporting ...
(MORE)
Hanson's Advice To Historical Society: "Go Fuck Yourself"
---
Langford Credits God For Victory, Analysts Suspect Lead In Drinking Water
---
Birmingham Electorate Declared Brain Dead