Rumsfeld To Coach Tide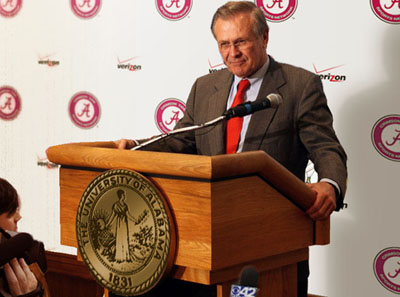 Tuscaloosa (JM) - Donald Rumsfeld was introduced as the new head football coach at the University of Alabama during an afternoon press conference on Friday. Rumsfeld, who becomes the 27th head coach in school history, signed a four-year contract worth $1.35 million per year.

"It is with a great deal of pleasure that I announce that we have selected Donald Rumsfeld as our new head football coach," university athletics director Mal Moore said. "Rummy brings a mixture of grit and experience to our program, while at the same time, a 6-year career in the Defense Department has prepared him for the step he is taking today.

The 74-year-old Rumsfeld has been a defense specialist for Washington for years, under two Presidents Bush, Reagan and Nixon. Prior to that he enjoyed a stellar career in the pharmaceuticals industry, engineering a dramatic comeback season at Searle which saw the introduction of aspartame and a much-publicized acquisition by Monsanto.

"It was that mix of entrepreneurialism, leadership, and conservatism that made Rummy the perfect fit for this job," Moore continued. "We talked with Donald Wednesday night and he was able to reach a decision quickly. We are obviously excited to have him on board." Rumsfeld, whose only football experience was on the lightweight team at Princeton, is the oldest head coach in Alabama history. Legendary coach and pre-game jumbotron narrator Paul "Bear" Bryant retired at 70.

"I am obviously excited about this job," Rumsfeld said. "There is a bright future ahead for Alabama. In coaching, every day is filled with numerous opportunities for serious error, and I plan to enjoy it. Some would say that this team is in a quagmire. I don't do quagmires. I mean, as you know, you go through the season with the team you have. They're not the team you might want or wish to have at a later time. The way to do well is to do well"

The Alabama head coaching position became available when Mike Shula was fired immediately after sending the offense onto the field on a 4th and 15 with 8 minutes left in the Iron Bowl. Shula was hired in 2003 from the Miami Dolphins to replace Mike Price, who proved to be too liberal for Alabama. In his four seasons with the Tide, Shula, who enjoys Mayfield ice cream at press conferences, compiled a 26-23 record, with one signature win and numerous signature losses.

Rumsfeld, now the oldest football coach in the Southeastern Conference, has not named any of his assistants, announcing instead that he would put together a study on the issue. "You learn from hearing a range of perspectives," said Rumsfeld, "Consultation helps engender the support decisions need to be successfully implemented. There are known knowns. These are things we know that we know. There are known unknowns. That is to say, there are things that we know we don't know. But there are also unknown unknowns. There are things we don't know we don't know."