Fed, SEC Determine Langford's Ego Too Big to Fail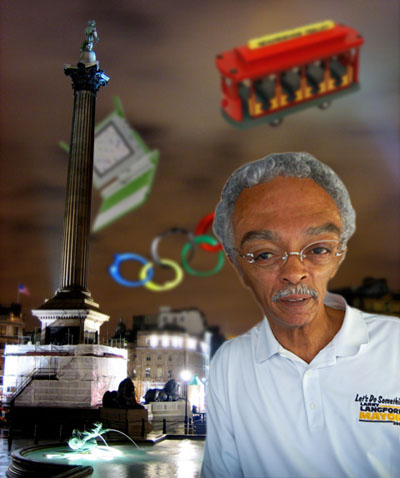 Birmingham (JM) - The U.S. Securities and Exchange Commission concluded their investigation into bond-swap negotiations and other Jefferson County financial obligations entered into under the administration of former County Commission president Larry Langford and issued a report recommending that the Federal Reserve bail out the county to the tune of nearly $5 billion.

In weighing whether to pursue criminal prosecution against the former County official and current Birmingham mayor, the SEC concluded that Langford's ego was simply "too big to fail."

"If we let Langford take the fall on this, that leaves the county's 650,000 residents without hope for new pie-in-the-sky capital projects," said lead investigating attorney Robert Levenson. "Our role as overseers should give precedence to the well-being of those citizens. With that in mind, we have recommended a full bail-out which will allow the county to redeem its bad debts and focus on building a strong economy by helping its largest city build new fountains and sports facilities."

Among the ego-driven initiatives which are expected to benefit from the bail-out include constructing a 60,000-seat indoor stadium with bingo parlor to host the AHSAA Super Six football tournament and partnering with Wasilla, Alaska in a joint bid for the 2020 and 2022 Summer and Winter Olympics. "We feel that the citizens' optimism and hope cannot withstand this economic downturn without the spectacle of sport to look forward to," said Levenson.

Langford's transportation ideas have not been given the short shrift in this bailout plan with money being set aside for repaving all the city's streets - then stripping the new asphalt to look for streetcar tracks, deploying a system of 'God's bandwagon' trolleys to connect every church in the city, re-cladding the airport's traffic control tower with a 250-foot tall image of Fred Shuttlesworth using windows for eyeballs, and replacing all Public Works vehicles with custom-built Cadillac Escalade XTs. "The Escalades should really help with traffic congestion since we will require two public works employees per vehicle," said Ronnie Vaughn acting director of Public Works.

Langford's child welfare plans such as purchasing a WiiŽ Fit for every family with school age children and outfitting all residents under the age of 16 with GPS receivers will benefit public health and safety during a period which historically sees a rise in crime and mental health issues. And general feel-good ideas like creating a full-size replica of Trafalgar Square in Pratt City with live Beluga whales in the fountain will just give people a much needed lift.

Finally, to manage all of these programs, Birmingham will recruit new talent by annexing Lipscomb and Brighton. "If we don't do this, Birmingham may cease to exist," said Levenson. "Or at least go back to where Atlanta was in 1960."