FURNACE HOSTS
TOYS FOR TA-TAS
Adult Toy Box In Rear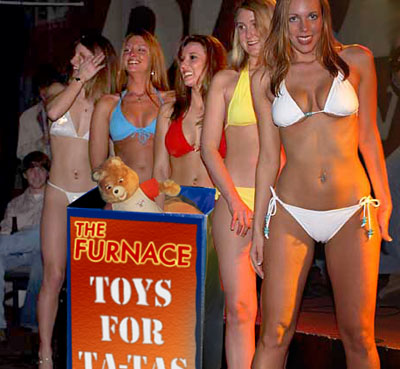 Central City() Throughout the past two years, the downtown gentlemen's club known as The Furnace has been enmeshed in a controversy with the Alabama Alcoholic Beverage Control Board. The high-class $3 million topless club, which is located in Birmingham's posh Central City neighborhood, has enraged local residents with the thought that attractive strippers might displace the area's traditional, more 'family oriented' inhabitants, such as hookers and mentally ill transients.

Despite projected tax revenues of over $200,000 per year for the city of Birmingham, the ABC remains intransigent. ABC president Merkin Muffly continues to deny rumors that his ownership of rival strip bar Sammy's is a conflict of interest. Even after receiving the coveted Operation New Birmingham 'thumbs up' endorsement from Michael Calvert, the club remains without a liquor license and is currently operating on a BYOB basis. Now, in a last ditch effort to push-up its sagging public image, the Furnace has announced that it will hold a humongous children's fundraiser.

The event, dubbed Toys For Ta-Tas, will take place from December 17-23. During this period anyone who brings in a new, unopened toy will receive free admission, anyone who brings four toys will receive a free meal and anyone who brings ten toys will receive a free lap dance. All of the toys will then be donated to the Ronald McDonald House, a shelter for battered women and their children. Owner Greg Jackson states "We came up with the idea after learning about a similar event at The Cheetah in Atlanta." Former UA football coach and booby connoisseur Mike Price was originally slated to act as emcee but has since been replaced by Herb Winches.