Sybil Temple Reopens for Saturnalia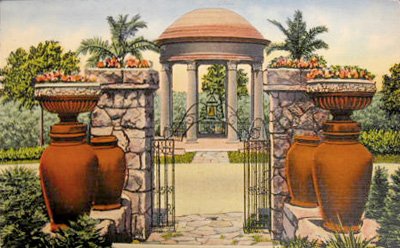 Vestavia Hills(JM) - After extensive renovations and landscaping, the historic Temple of Sybil in Vestavia Hills reopened this solstice for the annual observance of the rites of Saturnalia.

Beginning with a candle-lighting ceremony at the southern edge of the city, a procession of toga and hoop-skirt-clad revelers ascended the southern slope of Shades Mountain on the sacred route of Elton B. Stephens. Along the way, various sacrifices were made in the Temples of Commerce. A fresh young evergreen was purchased from the Mountain Scouts Christmas Tree Sale and carried aloft up the long stairway to the Temple, where it was decorated with silver sigillaria and cerei.

The sacrifice of an ox was carried out by Pizitz Middle School janitor Caldwell Perkins, the duly-elected Lord of Misrule, dressed in the mayor's sash and top hat. After raising high the knife, he proclaimed to the merry crowd, "For how many years shall this festival abide! Never shall age destroy so holy a day! While the hills of Vestavia remain and father Jupiter, it shall continue!"

While drunken revelry claimed the City Centers and turned the normal day-to-day commercial activity on its head, many of Vestavia's social elite reportedly spent the holiday quietly in their country villas.